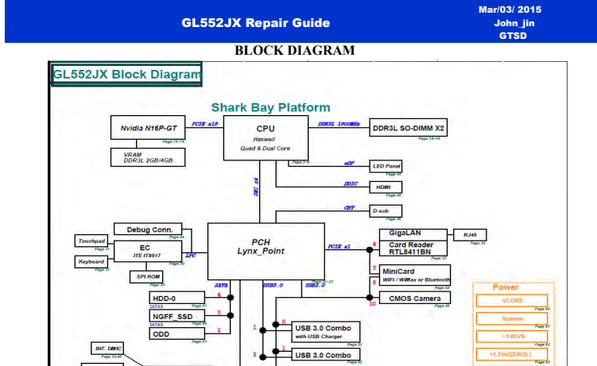 Schematic diagram of the main board. Service Manuals, Repair Guide PDF Free Download
1 Self-repair of ASUS laptops
2 product information
3 Instructions for using the product
4 COPYRIGHT INFORMATION
5 LIMITATION OF LIABILITY
6 Security measures
7 Installation Tools
8 Before disassembling
9 Removing the bottom cover
10 Installing an M.2 card (SSD)
11 Documents/Resources
11.1 Recommendations
12 similar messages
ASUS F3E Rev:1.1 Schematic Download
Asus A6U Rev:2.1 Schematic Download
Asus A6TC Rev:2.1 Schematic Download
Asus A45V/A45VD Compal LA-8224P Rev:0.2 schematic Download
Asus A3F Rev:2.0 Schematic Download
Asus 1201HA Rev:1.0 schematic Download
Asus Eee PC 1015PE Rev:1.2G schematic Download
Asus Eee PC 1015P Rev:1.0G schematic Download
ASUS Eee PC 1005HA Rev:1.1G schematic Download
Asus 1001PX N455 Rev:1.2G schematic Download
ASUS Obi-Wan Rev:2.0 Schematic Diagram Download
ASUS N73SV Rev:1.0 Schematic Diagram Download
ASUS M50vm Rev:1.0 schematic diagram Download
Asus K54HR Repair Guide download Download
Asus K52N Rev:1.0 schematic Diagram Download
ASUS K40ij k50ij MB Rev:2.0 schematic Diagram Download
Asus K45VD VAL40 LA-8226P Rev:1.0 schematic Download
Asus K45VD QCL40 LA-8224 Rev:0.2 schematic Download
ASUS Eee PC 701/P701 Rev:1.2G Shematic Download
Asus K75V K75VJ QCL70 LA-8222P Rev:1.0 schematic Download
Asus K45A QCL40 LA-8221P Rev:0.2 schematic Download
Asus K53T X53T QBL60 LA-7552P AMD Rev:0.1 schematic Download
ASUS K43T K43TA K43TK K43TY QBL50 LA-7551P AMD Rev1.0 schematic Download
Asus K53U PBL60 LA-7322P AMD Rev:1.0 Schematic Diagram Download
Asus K43B K43BR K43U X43B PBL50 LA-7321P AMD Rev:0.22 Schematic Download
ASUS K42Jv Rev:2.0 Shematic Diagram Download
ASUS K42JR Rev:2.0 Schematic Diagram Download
Asus K42F Rev:1.0 Schematic Diagram Download
ASUS K40IN Rev:1.0 Schematic Diagram Download
ASUS F9DC Rev:2.1 Schematic Diagram Download
ASUS F80Q Rev:2.0 Schematic Diagram Download
ASUS F8V L80V N80V N81 Rev:1.0 Schematic Diagram Download
ASUS F7Z Rev:2.0 Schematic Diagram Download
ASUS F7Se Rev:2.0 Schematic Diagram Download
ASUS F5Z Rev:2.0 schematic Diagram Download
ASUS F5R Rev:2.0 Schematic Download
ASUS F3Jv Rev:2.0 Schematic Download
ASUS ROG N550JX Repair Guide Download
ASUSPRO P452SJ SA Repair Guide Download
Asus UX305FA Repair Guide Download
Asus X540SC Repair Guide Download
Asus N550LF Repair Guide Download
Asus UX560UQ UX560UX Repair Guide Download
Asus UX360CA Repair Guide Download
ASUS X455LD Repair Guide Download
Asus GL752VW Repair Guide Download
Asus G752VSK Rev2.0 Schematic Download
Asus Q503UA Repair Guide Download
Asus N750JV Repair Guide Download
Asus UX31A2 REV:2.0 Schematic Download
Asus N501JW Repair Guide Download
ASUS X555LD Repair Guide Download
ASUS U47A Repair Guide Download
ASUS ROG GL552JX Repair Guide Download
Asus X453MA Repair Guide Download
Asus N551JM REV2.0 Repair Guide Download
Asus X556UJ Repair Guide Download
Asus E502NA Repair Guide Download
Asus X455LB Repair Guide Download
ASUS X541UV Repair Guide Download
Asus K401LB Repair Guide Download
ASUS X540LJ Rrpair Guide Download
ASUS X456UQK Repair Guide Download
Asus X401U repair guide Download
Asus X550LD repair guide Download
Asus S300CA Repair Guide Download
Asus X401A repair guide Download
Asus A7S Troubleshooting Guide Download
Asus EeeBook E402SA Repair Guide Download
Asus X553MA repair guide Download
Asus UX31E Repair Guide Download
Asus K55DE Repair Guide download
Asus K53SV Repair Guide download
Asus K53E Repair Guide download
ASUS Z97V Rev:2.0G Schematic Diagram download
ASUS Z96S Rev:2.0 Schematic Diagram Download
ASUS Z96Jm Rev:1.0 Schematic Diagram Download
ASUS Z96J Rev:1.0 Schematic Diagram Download
ASUS Z96H Rev:1.01G Schematic Diagram Download
ASUS Z96FM Rev:1.0 Schematic Diagram Download
ASUS Z96F Rev:2.1G Schematic Diagram Download
ASUS Z94T Rev:1.1 Schematic Diagram Download
ASUS Z94Rp Rev:1.1 Schematic Diagram Download
ASUS Z84J Rev:1.1 Schematic Diagram Download
ASUS Z84FM Rev:2.0 Schematic Diagram Download
ASUS Z84F Rev:2.00G Schematic Diagram Download
ASUS Z65R-H Rev:1.1 Schematic Diagram Download
ASUS Z62JM Rev:2.3 Schematic Diagram Download
ASUS Z62Ha Rev:1.1 Schematic Diagram Download
ASUS Z62H Rev:1.2 Schematic Diagram Download
ASUS Z62FM Rev 1.0 Schematic Diagram Download
ASUS Z62E Rev:2.0G Schematic Diagram Download
ASUS Z61Ae Rev:2.0 Schematic diagram Download
Asus x101ch_3 Rev:1.3G Schematic Diagram Download
Asus K52N X52N Rev:1.0 Schematic Diagram Download
ASUS X51RL Rev:2.0 Schematic Diagram Download
ASUS X51L Rev:2.0M Schematic Diagram Download
ASUS X51H Rev:2.2 Schematic Diagram Download
ASUS W7J Rev:1.2 Schematic Diagram Download
ASUS W3V Rev:2.1 Schematic Diagram Download
ASUS V6J Rev:2.0 Schematic Diagram Download
ASUS T12F Rev:2.0 Schematic diagram Download
ASUS UL20A Rev:2.0 Schematic Diagram Download
ASUS U5A Rev:2.0 Schematic Diagram Download
ASUS T13FG Rev:1.10 Schematic Diagram Download
ASUS T12R T12RG Rev:2.0 Schematic Diagram Download
ASUS T12J Rev:2.0 Schematic Diagram Download
ASUS T12Eg Rev:2.0 Schematic Diagram Download
ASUS S96F Rev:2.1G Schematic Diagram Download
Instructions for using the product
Security measures:
ASUS is not responsible for any damage resulting from improper installation and operation.
Protect your stored data by periodically backing up all data stored on your hard drive or other storage devices.
Installation Tools:
#1 T6 Screwdriver
Non-conductive tool
Tweezers
Antistatic gloves
Before disassembly:
Have a smartphone or handheld camera ready to take photos during disassembly. This will help you remember the assembly order and the location of the parts.
When lifting the bottom cover, open it slowly and carefully to minimize the angle. Before opening the bottom cover completely, make sure that all cables are disconnected to avoid damaging them.
After opening the bottom cover, first disconnect the battery cable.
If any materials, cables, tapes or other materials are touched or moved when replacing components, return them to their original location before continuing.