Amazfit - download PDF manual
Amazfit Bip Smartwatch Youth Edition - download PDF manual
WeLoop Hey 3S GPS Smartwatch - download PDF manual
WeLoop Hey 3S GPS Smartwatch Intro - download PDF manual
Amazfit Smart Watch - download PDF manual
Amazfit Cor Health Band - Download PDF Manual
Amazfit Band A1501 User Manual Download 
Xiaomi Mi Band XMSH01HM Schematics Diagram Download
---
Xiaomi Mi Band - download PDF manual
Xiaomi Mi Band 2 - download PDF manual
Xiaomi Mi Band Pulse - download PDF manual
Xiaomi Mi Band 2 - download PDF manual
Xiaomi Smart Dog Button - download PDF manual
First, let's look at how the watch looks on the arm. After all, this smartphone can always be worn in your pocket, and the watch is such an accessory that is always in sight.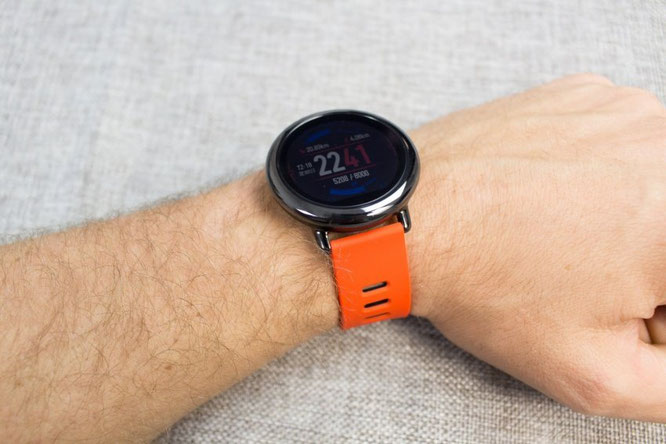 What about hardware and battery life?
Formally, Amazfit Smartwatch is equipped with a dual-core 1.2 GHz processor, 512 MB of RAM and 4 GB of internal memory, about half of which can be clogged with music and background images. Why formally? Because the clock runs on its own closed version of Android (or Anroid Wear, there is no unequivocal opinion on this matter). While working without lags and brakes, as will be with subsequent updates (and updates of Chinese firmware come out very often) it's difficult to judge. There are modules Bluetooth, Wi-Fi, GPS + GLONASS, a pulse measurement sensor and an electronic compass. The gadget is powered by a 280 mAh battery. The hours last up to 5 days in "quiet" mode (notifications and walking around the city), 3-4 in sports training (running, biking, etc.) and dramatically reduced with active use of GPS and / or music player.
What can Amazfit Smartwatch?
First, a few words about the firmware, localization and that's it for everyone. Originally, the watch was only available in China with the appropriate firmware and lack of any languages other than Chinese (model A1602). Mobile application for smartphones transferred pretty quickly, the very same interface of the clock - no. Many users have got used to this nuance and simply remembered the menu structure. Now the international version of A1612 (it's Pace) has already appeared, it has an English-language interface. The crooks already found the opportunity to reflash the Chinese version to the international one (from the point of view of "iron" they are identical)
4 Reasons to Buy Amazfit Smartwatch:
quality materials and a pleasant appearance;
protection from dust and moisture;
a complete set of necessary wireless interfaces and sensors;
long battery life.
2 reasons not to buy Amazfit Smartwatch:
weak software;
low brightness of the screen backlight and small viewing angles with the backlight on.