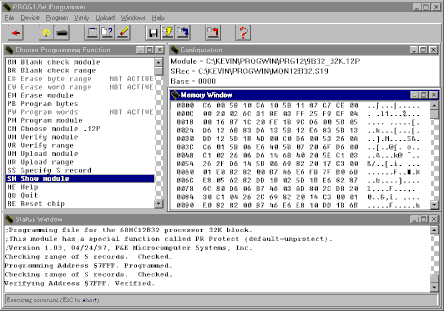 PonyProg2000 v2.07c / v2.08b Download
Using PonyProg2000 you can reflash the controllers of old mobile phones, car radios and TVs. The software is used for programming printers, allowing you to remove the factory lock on the installation of newly refilled cartridges. The software works with EasyI2C, Ludipipo, STK 200/300, AVR ISP and other interface programmers. Before connecting the adapter to the PC, you must turn off the computer. And after launching the program, it is important to choose the model of the programmer. Otherwise the device may be damaged. The connection is made via the COM port.
Programming microcontrollers for various devices
Pragmatic graphical shell
Compatible with different programmers
Programming FUSE Bits
Reading code and editing bytes
Free distribution
---
SVOD3 Universal Programmer Software Download
ENE: KB9010/KB9012/KB9016/KB9022/KB9028
Nuvoton: /NPCE388N
ITE: ITE8386/8580/8585/8586/8587/8985/8987
MEC: MEC1609/1619/1632/1633/1641/1650/1651/1653/5035/5045/5055/ 5045/5075/5085
Explore Microelectronics: /021/035/036/037
---
RT809H universal Programmer Software download
RT809H universal Programmer Software
NAND FLASH
LCD/LED TVs through VGA
TSOP48 Nand FLASH EMMC, TSOP56 and UPTO 64GB NAND FLASH
---
RT809F Programmer Software free download
Latest ENG. Version Software  for RT809F : RT809F download
Support all series of ISP 24, 25, 26 and 93 flash memory chips.
Support automatically detects the part number of the chips.
Support 8-pin laptop, 14-pin password chip and battery chip (especially 24RF08/6480AR/BR9080/9016 other special models).
Read and write commonly used 8 and 16 pin EEPROM chips.
Can read and write SPD DDR1, DDR2 and DDR3 memory chips.
---
TL866II Plus Programmer Latest Version: TL866II Plus Xgpro V10.13_setup Download
Minipro TL866A/CS Programmer Latest Version: TL866A setup v.685 Download
XGecu TL866II Plus USB High Performance Universal Programmer driver version 8.07 (1.11.9200.16384) from Microchip. Designed to install Windows XP, Windows Vista, Windows 7, Windows 8, Windows 8.1 and Windows 10.
To install, you need to unpack the archive and run the file - XgproV807_Setup.exe.
Version: V8.07 Support:15401--2018.10.23
---
Genius G840 USB Programmer Software Download
This is a 40-pin ZIF connector programmer.
The result of the work is displayed in three ways: programming software, LED lamp and an additional sound signal.
  Dual power supply. When programming online, USB power works. But an external power supply is required. For battery-powered operation, an external power supply is the best choice (9V-1000mA).
USB connection. USB powered, no external power supply required. Very convenient to use.
Inexpensive, high-performance program.
Compatible with Windows2K/XP/Vista, Windows 8 and Windows 10.
---
EZP2019 Programmer Software download
USB 2.0 interface Supported.
Auto detect Bios chips.
Auto select Device power votage.
Software and firmware update.
Auto off-line chip copy.
Windows XP, Windows Vista, Win7, WIN8, WIN10 Supported.
---
ITE ENE IO programmer software download
Can program almost all I/O chips ENE (KB9010, KB9012, KB9016, KB9022, KB9028) ITE (IT8586E, IT8585E, IT8580, IT8587, IT8985, IT8987) Nuvoton (NPCE288, NPCE388) SMSC (MEC1609, MEC1 633) etc .
---
CH341A USB Programmer Software
CH341A v1.34 Download
CH341A v1.30 Download
Software necessary for full operation of a physical programmer of a similar type. With its help, you can change the firmware of supported chips, clear them and save them to a computer folder. The program interface is extremely simple and contains only a basic set of tools without many additional settings.
Equipped with a set of required drivers;
Complete tools for changing standard microchip firmware;
Compatible with Windows OS from XP and higher;
Has Russian and English localization;
---
Vertyanov svod IO programmer software Download
ENE,ITE,SMSC,Nuvoton Automatic USB IO Programmer+keybrd tester VER 4.0
If you have an older version of the programmer, you can update the firmware for free to use the new version of the software (ask me or the author to get it)
---
SOFI SP8-A Programmer Software Download
Genius G540 USB Programmer Software Download
EZP2010 High Speed Programmer Software Download
HI-LO Systems ALL-11P2 UNIVERSAL PROGRAMMER Download
ALL07 UNIVERSAL PROGRAMMER AND TESTER Download
PROMA-3 UNIVERSAL PROGRAMMER AND IC TESTER Download
HI-LO System EPP-01A HIGH SPEED EPROM PROGRAMMER Download
QUICK EPROM PROGRAMMERE SEP-81AE Software Download
Sunshine EPROM Programmer Software Download Download